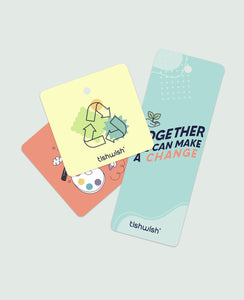 Tishwish Custom 100% FSC Hangtags
Regular price
Sale price
$55.00
100% Recycled FSC Paper
Vegetable-Based Ink
Tree planted with every order
Recyclable
Our Tishwish Hangtags are proudly Recycled FSC paper, meaning your purchase hasn't contributed to deforestation. Printed using vegetable-based inks in full color (Go crazy!), this is a natural, renewable source that makes the recycling process easier. Less energy required, less impact made!
Looking for a fully customized solution in high quantities over 10,000?
Get in touch with us about what you want and our team will come up with a plan, tailor made for you.